A Superior Network
Through the superior system architecture of Thuraya's satellite communications network, customers are assured of continuous border-to-border coverage beyond the boundaries of terrestrial systems and cellular networks.
The major elements of Thuraya's satellite network are the space segment, ground segment network, operations support systems (OSS) and user segment. The first refers to the state-of-the-art spot beam space system design, driven by the satellite communications pioneers Boeing Satellite Systems International who designed Thuraya's geosynchronous satellite.
Dynamic Resource Allocation
This is a powerful and unique aspect of the Thuraya network, enabling it to minimize signal congestion in areas where there is a high degree of communication traffic – such as natural disaster zones or scenes of armed conflict. Through intelligent satellite technology, the Thuraya satellite network automatically allocates additional signal resources in areas where they are required.
Thuraya's unique dynamic resource allocation ensures greater reliability and stability of your satellite connection. While other satellite networks can become slow and unreliable when multiple links are made in signal hot-spots, Thuraya's variable spot-beam allocates additional satellite resources to alleviate congestion.
This is done by varying the bandwidth transmitted through Thuraya's satellite spot beams. Each Thuraya satellite can support 512 spot beams, with each beam providing coverage to an area of up to 600km. Where additional bandwidth capacity is required, the network can boost satellite power to concentrate 20 percent of the total capacity into a single beam, or 40 percent across three beams, as demand dictates.
This dynamic design feature also enables Thuraya to provide a unique high-penetration alert. If a call from one Thuraya satellite customer to another is not answered on the first attempt, the satellite network boosts power during an automatic second attempt. Though satellite calls from inside buildings or near other obstructions are usually not possible, Thuraya's superior signal strength means that, in some circumstances, a connection will still be made. By boosting the power on the second try, this further increases the likelihood of a successful connection being made if, for instance, the receiving handset is located near a window or other clear area indoors.
Digital Switchboard in Space
Thuraya's single-hub connectivity, with satellite calls switched in the space segment instead of on the ground, also distinguishes our space segment from that of other satellite networks. This increases efficiency of the network, and enables greater flexibility in product design and other elements of Thuraya's ground network.
Superior Hardware Redundancy
The reliability of the Thuraya network is another unique aspect. While other satellite networks rely on separate transponders within the spacecraft, each responsible for the satellite resource allocation of a particular country or region, Thuraya flexibly allocates resources across various components. In the unlikely event of a hardware failure, Thuraya satellites can reconfigure allocation to ensure an entire region does not lose satellite coverage. The in-built redundancy of Thuraya satellites also contribute to this flexibility, with other system components able to compensate in the unlikely event of isolated hardware problems.
Leading Solutions and Customer Service
Because of the unique aspects of Thuraya's satellite architecture, the size of our satellite IP modem and handsets can be minimized while still providing powerful connectivity and services.
This in turn provides for greater flexibility in our operations and support systems, where customer care, billing and personalized SIM cards and system performance monitoring take place. Thuraya's award-winning billing system sets it apart from other satellite networks.
This system is able to support over 1,400 rate plans, spread across Thuraya's Service Providers and catering to requirements of different handsets, data products and customized solutions. Additionally, it enables flexibility across regions, allowing for the addition of international tax rates and other region-specific features.
From the design of its satellites, through to each Thuraya device and accessory, the Thuraya satellite network provides a truly superior satellite communication solution.
---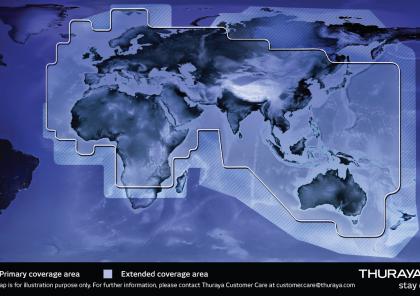 Coverage Map