This is Inmarsat
Connecting the planet
As of August 2010, Boeing, the US aerospace manufacturer, has been contracted to build a pioneering new constellation of satellites - the Inmarsat-5s. They will form the backbone of our planned Inmarsat Global Xpress™ network, delivering mobile broadband speeds of up to 50 megabits per second.
Global coverage
Our current fleet of 11-satellites already provides seamless mobile voice and data communications around the world, enabling users to make phone calls or connect to the internet - whenever and wherever they need - on land, at sea or in the air.
Inmarsat's award-winning Broadband Global Area Network (BGAN) service, for example, makes it possible for TV broadcasters to beam live breaking news from remote locations into millions of homes.
And in future, when you make a mobile phone call or send a text message from an aircraft, it's likely to be routed via the Inmarsat satellites to the ground.
Safety services
But for the maritime community our communication and safety services are nothing new. Their lives and livelihoods have depended upon Inmarsat for more than a quarter of a century.
We were founded in 1979 to ensure that ships could stay in constant touch by telephone.
---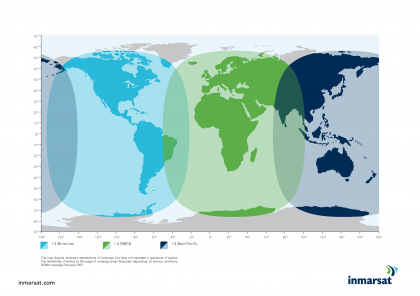 Coverage Map